The 10 Best Washing Machine Cleaners of 2022
By Amy Mitchelle / Last Updated: July 6
Washing machine cleaners are a great way to keep your appliance clean and smoothly operating. These cleaners are designed to dissolve scale, dirt, mold, and unpleasant odors. It is enough to use such a washing machine cleaner once a month to keep your washing machine fresh and functional.
They are sold in the form of powders, liquids, and tablets. You can dissolve them in water or pour a small amount directly into the washing tub. Using washing machine cleaner tablets is not something that you have to do regularly, but it can be used on occasion or when you feel that your washing machine requires some extra care and attention. Let's find out what products are popular today and what is the best washing machine cleaner chosen by thousands of housewives.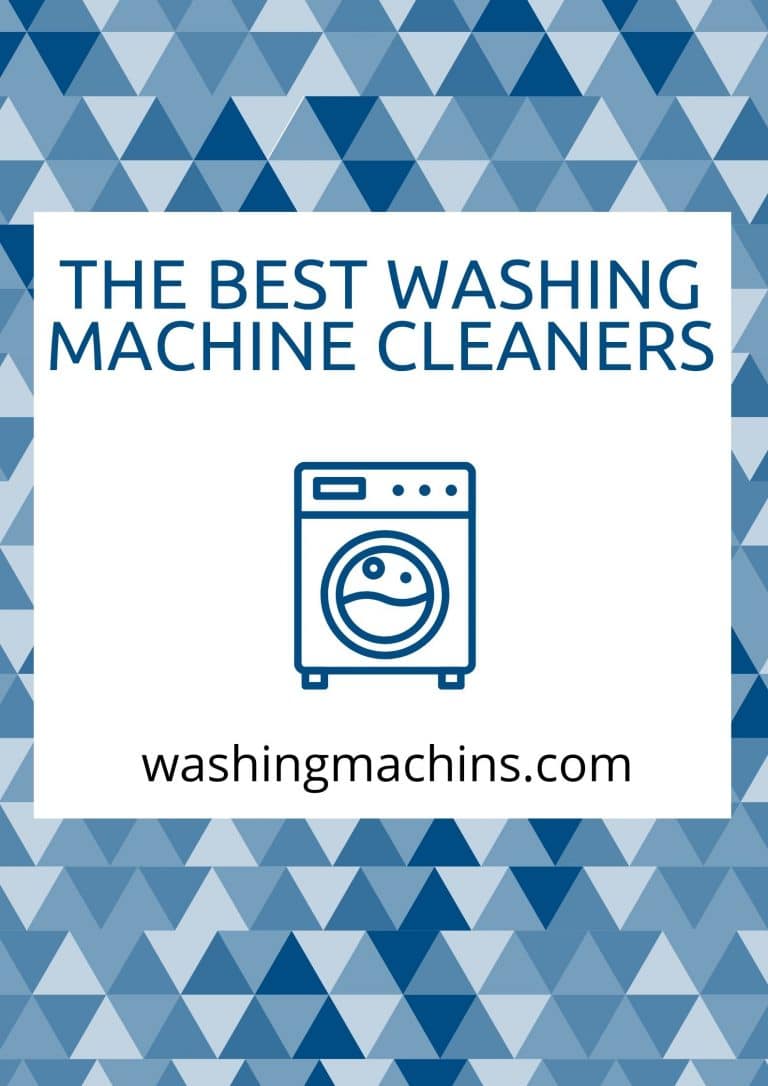 Our Best Choice Washing Machine Cleaner
Accept for consideration the best washing machine cleaner
Brand: Affresh Type: Tablets Size: 6 Dimensions: 2.5 x 4 x 6 inches Weight: 8.47 Ounces Scent: Fresh Compatible with: Top load, Front load, HE washers
Meet the best washing machine tub cleaner suitable both for top and front load washers. The main advantage of these tablets is their ability to dissolve slowly, effectively affecting limescale, dirt accumulation, and mold. This solution is entirely safe for any septic tank type. It also acts without dangerous influence on all the washer's mechanisms.
Best Washing Machine Cleaners of 2022 - Top 10 Reviews
Look through the latest review of top 10 washing machine cleaners
Size: 5 powder packs Scent: Fresh Compatible with: Top load, Front load, HE washers
Tide washing machine cleaner attacks the residue efficiently and gives your washers back their cleanliness and freshness. The solution has a pleasant, light, fresh scent. It is ideal for all types of washers, including top, front load, high-efficiency, and non-high efficiency washers. According to the Tide washing machine cleaner review, the tablets are excellent for dealing with stubborn dirt and unpleasant odors.
How often should you use this product? Once a month is enough. If you wash clothes less frequently, use 1 powder pack every 1.5-2 months. The latest Tide washing machine cleaner reviews confirm that the freshness and cleanliness of the internal mechanisms of the washing machine affect the quality of washing and the fragrance that the washed laundry acquires.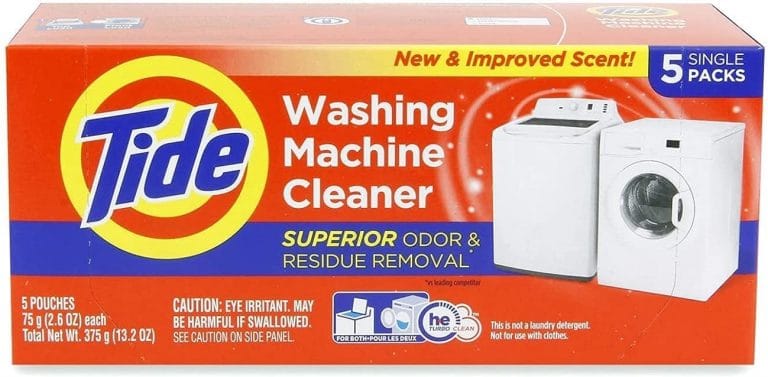 That is why it is so important to take care of the cleanliness of your washing machine parts, especially those that are invisible to the naked eye.  The Tide washer cleaner can dissolve accumulations of dirt, hair, mold, which can be seen in the drain hose, on the walls, and the back of the tub. Ordinary manual cleaning of the elements available to the user does not protect the remaining mechanisms from dirt, so using such means is an indispensable solution to maintain the normal, stable functioning of the washing machine for many years. The set includes 5 tablets, enough for 5-6 months of care.
Size: 6 tablets Scent: Fresh Compatible with: Top load, Front load, HE washers
The offered Affresh washing machine cleaner set includes 6 quick-dissolving tablets. This product removes limescale, dirt, viruses, and bacteria from all the inner parts of your washing machine. Each tablet slowly dissolves in water and forms a foam that cleans every corner of your appliance. Users can be sure of both the effectiveness of this solution and its absolute safety (there is no risk of damaging septic tanks).
To save your washing machine's functionality for years, it is important to clean its exterior surfaces and take care of the inside mechanisms. For best results, use one tablet a month. If you wash your clothes often enough, the manufacturer strongly recommends using the All Fresh washing machine cleaner every 30 cycles.
Note that the tablet should be placed strictly in the washer's tub. If your washer possesses the Clean Washer cycle, choose it and run the device. The Affresh washer cleaner should operate when the tub of your washer is entirely empty.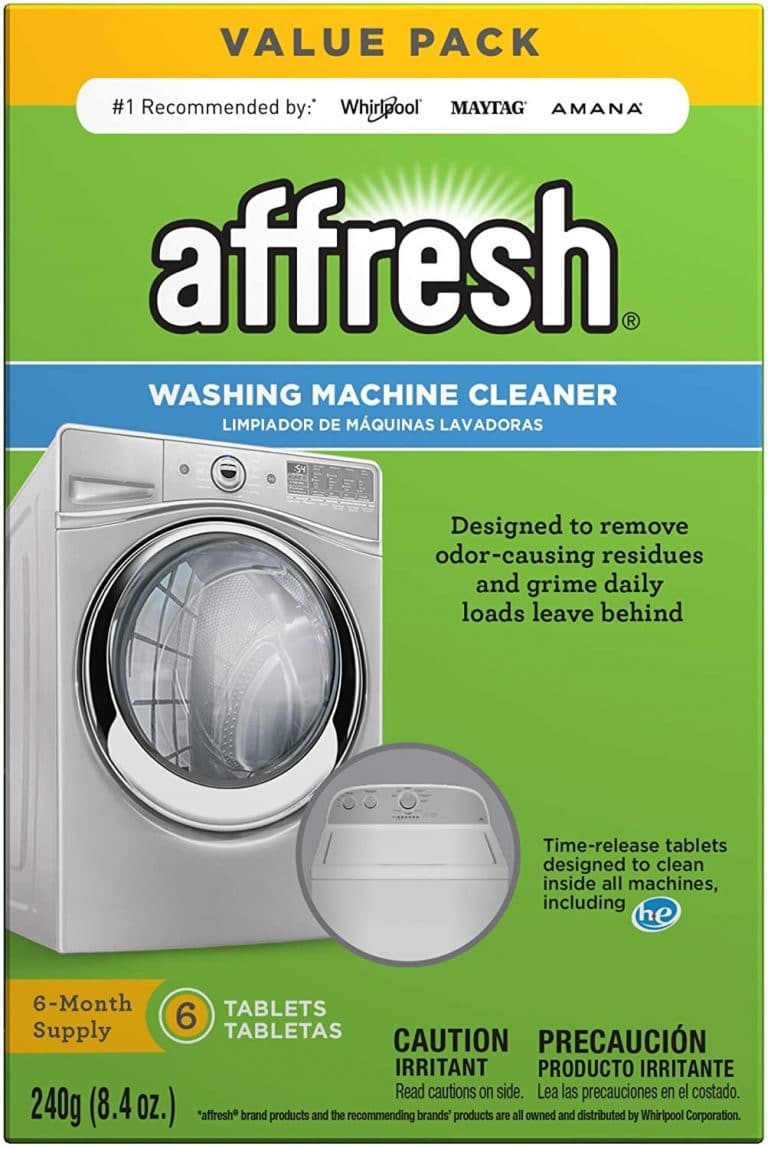 When the Affresh washer machine cleaner finishes its work, take a dry clean cloth and wipe the inside walls of the washing machine tub (small residual dirt particles may remain after the washing cycle and should always be removed). Repeat the procedure if the washer is too dirty and there is an unpleasant smell inside the tub. The product's composition is absolutely safe for the washer's mechanisms and septic systems.
Size: 4 powder packs Scent: ODOR BLASTERS Compatible with: Top load, Front load, HE washers
The OxiClean washing machine cleaner offers a special powder for a successful fight against the dirt accumulated on the internal washer's mechanisms. The proposed solution is ideal for all types of washing machines known today – both conventional, classic, and HE devices as well. To maintain the cleanliness and fresh fragrance inside the washing machine, it is enough to take care of it correctly and on time.
Dissolving the powder (one pouch) inside the tank once a month will keep the washer's tub crystal clear. Note that the powder's composition is safe for septic tanks, so you can not worry about possible damages. Remember that the OxiClean washing machine cleaner with odor blasters should be used only after the tub's emptying (the product must not come into contact with clothing).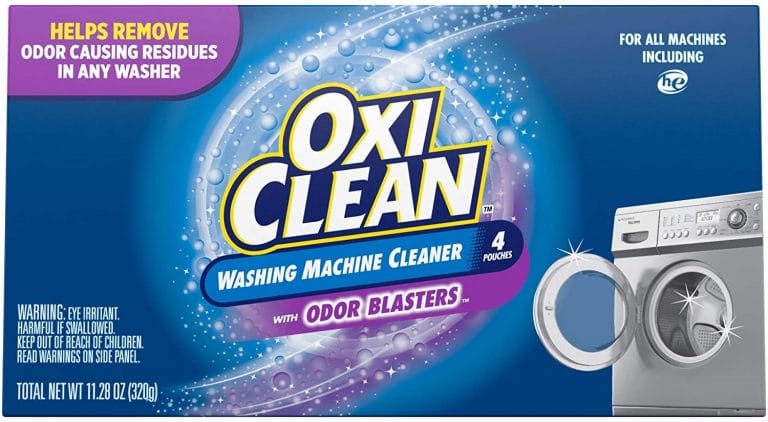 It is also unacceptable to mix these tablets with other detergents. To make the tablets work effectively, you should choose the Clean Washer cycle (if it presents in your washer model). Every second OxiClean washing machine cleaner review serves as a vivid confirmation of the product's effectiveness. It allows you to fight against rotten odor, mold, soft and hardened dirt. Leave the tank door open after you finish the washing cycle to ensure the interior surfaces are thoroughly dry. The presented cleaning powder from the OxiClean includes the following active ingredients – disodium carbonate and sodium percarbonate. There are no phosphates in this powder, so it is eco-friendly. Active ingredients instantly break down dirt and keep surfaces crystal clear. 4 count package is an ideal solution for any washer type, including HE devices.
Size: 24 tablets Scent: Unscented Compatible with: Top load, Front load, HE washers
This 24 pack cleaning solution will perfectly fit any washing machine type, including HE devices. The solution is completely safe for every septic type as well. The presented tabs are eco-friendly and indispensable for your device, especially if you exploit it regularly. When the tablets are dissolved in water, rich foam with a scrubbing effect is formed.
So, it's possible to clean any, even the most hard-to-reach corners of the appliance and achieve excellent cleanliness and freshness. You may think that your washing machine looks, works, and even smells like a new one. These tablets are rapid and easy to rid your washing machine of the unpleasant odors that appear in any appliance. No matter how gently you use your washing machine, you will still not get rid of the dirt, and powder residue remained in its deepest mechanisms.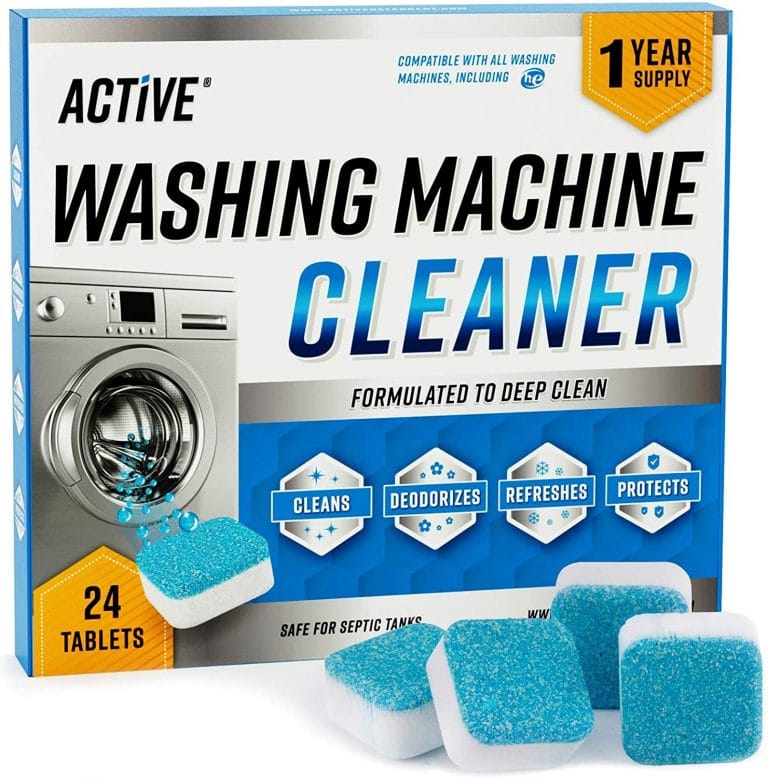 This cleaner solution will solve the mentioned problem with fantastic ease and simplicity. To enjoy the smell of freshly laundered laundry again, you should first take care of the cleanliness of the entire washing device. Only then adult and child laundry can be properly and safely washed. Tablets are perfectly soluble in water; the active ingredients are released and dissolve soap, powder, dirt accumulations. The advantage of these white and blue tablets is their ability to keep the machine clean for a more extended period. The powerful composition gently cleans the device's parts, restores a fresh scent, and prevents rapid re-contamination. The manufacturer reminds that this product cannot be used to clean dryers. The improved concentrated composition guarantees getting rid of limescale, soap deposits, dirt.
Size: 30 tablets Scent: Clean smell Compatible with: Top load, Front load, HE washers
This product is an indispensable care attribute for any washing machine types. The set includes 30 tablets. The shelf life of the package is 2 years, and respectively, you will be able to use this product for a long time. Each tablet is securely packed in individual foil. The product is not dangerous for septic tanks. In addition to cleaning the washing machine, it can also be used to treat the toilet bowl or bathroom floor.
The product contains active oxygen, which allows it to break up dirt molecules instantly. The effectiveness of the product has not affected its safety (not aggressive to the hands' skin). The manufacturer recommends using 1 tablet a month to provide the clean mechanisms and fresh fragrance inside the tub of your washing machine. Depending on the soiling degree, you can increase the number of tablets used per cleaning cycle. It is recommended to use a maximum of 1-3 tablets per cycle. It is essential to empty the washing machine tank and start the Self-Cleaning Cycle on this condition. 
The slow dissolution of the tablet in water contributes to a more thorough and qualitative cleaning of mechanisms from dust, dirt, and mold deposits. Remember that cleaning should not be neglected. Dirty mechanisms can transmit contaminants, bacteria, and viruses to the clothes you wash. This can harm the health of the whole family. After the inside gears' cleaning with mild abrasive foam, they will stay cleaner longer. As you know, mechanisms without limescale and dirt can work better and more clearly. Thus, by cleaning the washing machine, you create the best conditions for its stable operation and enjoy clean, fresh laundry without viruses and bacteria. The Kaitse tablets for washing machine take care of your family's health.
Size: 32 tablets Scent: Free and clean Compatible with: Top load, Front load, HE washers
The Hiwill brand offers 32 pack of efficient, slowly dissolving tablets for ideal washer's cleaning. The product is unscented, though it keeps the washing machine fresh and clean again. The appearance of even a faint unpleasant odor in the washing machine's tub is the first sign of dirt accumulation on its internal mechanisms.
This is a call to clean the washing machine thoroughly. Use the suggested tablets to return the household appliance to fresh fragrance and crystal cleanliness. Slowly dissolving in water, the tablet ensures a gradual release of the active ingredients. They instantly reveal the nidus of dirt and act on it destructively. Oxygen is the main tablet's component, which rapidly breaks down dirt molecules and disinfects surfaces. Just one tablet a month will save your washer from early wear and tear and allow the whole family to enjoy fresh, spotless laundry.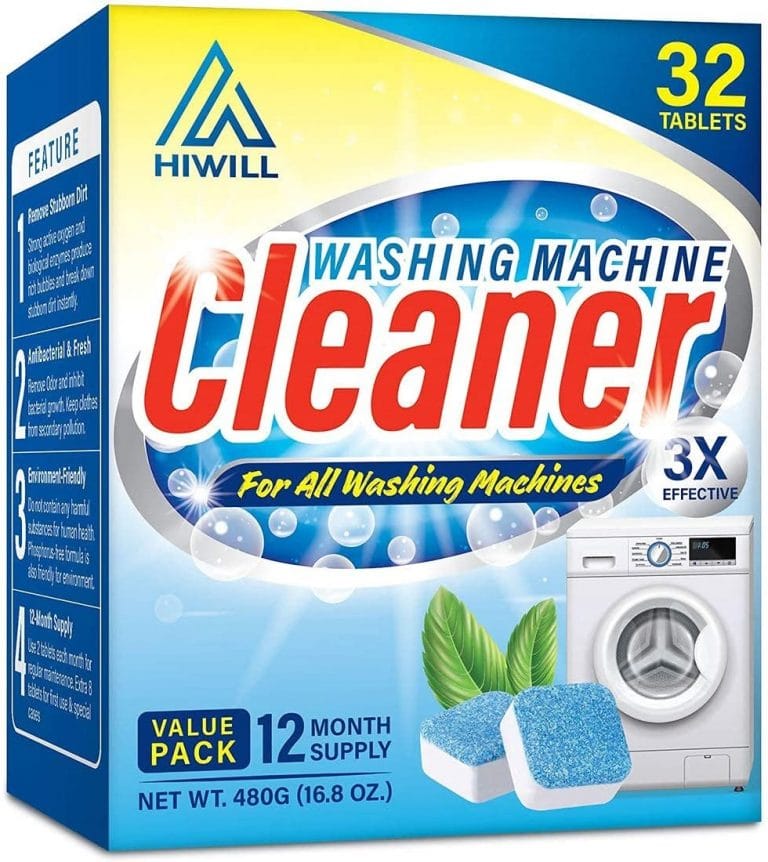 Dirt that inevitably accumulates on the inner parts of the washing machine can cause an unpleasant smell and become a reason for different device breakdowns. If you compare these tablets with similar products from other manufacturers, you will notice that they are smaller and thinner. The manufacturer recommends using these tablets for cleaning top load or front load washers. The fact that the tablets are completely safe for septic systems is also meaningful. They provide a gentle, effective, but non-aggressive cleaning.
Size: 6 tablets Scent: Unscented Compatible with: Top load, Front load, HE washers
The Renuv offers a set of 6 slowly dissolving tablets for quick and powerful washer cleaning. Many users wonder how to extend the washer's operating life. But all you need to do is just to keep it clean. And it is important to clean both the exterior and the interior. Regular washing definitely affects the cleanliness of the mechanisms, so any washer will sooner or later need to be cleaned.
The Renuv tablet is a perfect solution, allowing to dissolve the dirt deposits on all the parts of your washing machine. Just one tablet a month, and you can enjoy a steadily functioning appliance and clean, fresh laundry day after day.
If the product is ineffective, the manufacturer guarantees a refund. The Renuv tablets are characterized by slow, thorough dissolution. The active ingredient gradually envelops each part of your washing machine and takes effect immediately.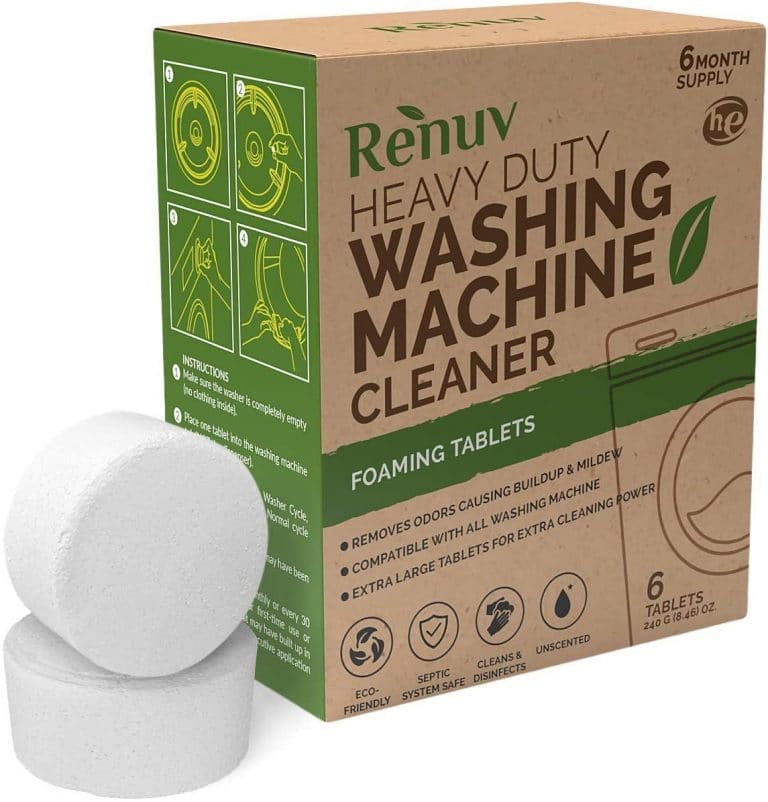 The active tablets' composition dissolves even hard deposits of dirt. After cleaning, you will notice improvements in device performance. Your washing machine and all the household will be immensely grateful to you! Clean, bacteria and dirt-free mechanisms ensure stable, quality operation of any washing machine.
Size: 24 tablets Scent: Unscented Compatible with: Top load, Front load, HE washers
The 24 tablets set from the Duracare is an odorless product with high efficiency. The tablets perfectly cope with the task assigned to them to dissolve mud deposits, eliminate mold, get rid of the putrid odor of dampness. The manufacturer recommends using 2 tablets for one cleaning cycle. Their smooth dissolution in water allows releasing active components that directly affect mud accumulations.
At the same time, the tablets are completely safe for the mechanisms of household appliances. They are not able to harm them. As the tablet dissolves, soft foam forms and envelops every spare part of the washer.
The foam with a mild scrubbing effect frees them from dirt, soap deposits, and mold gently. The product can be safely used for cleaning septic tanks and all washer types (top, front load, HE, etc.). The non-toxic remedy is safe for your hands and appliances.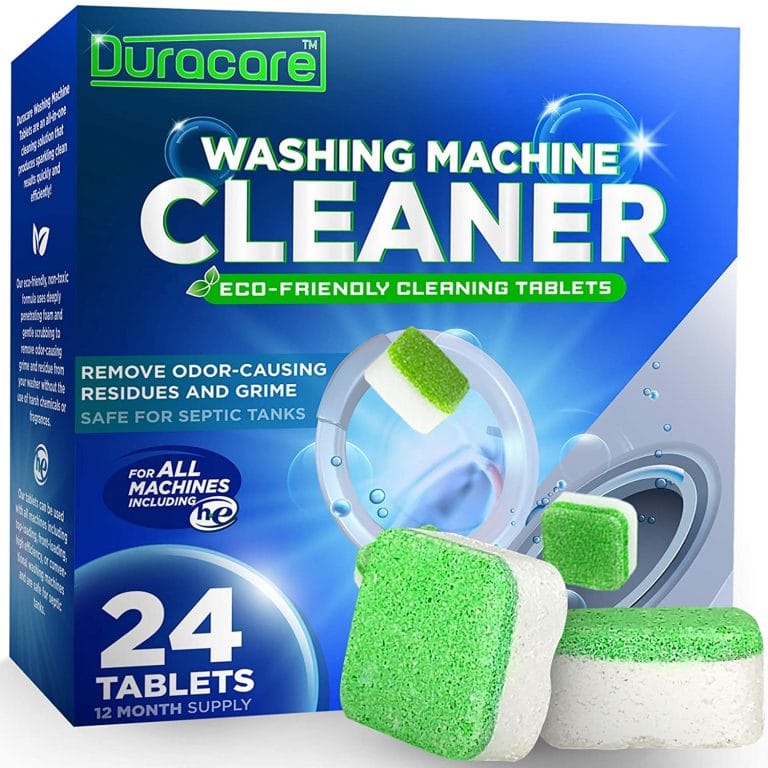 The composition does not contain toxic components and unpleasantly strong fragrances. How often should this remedy be used? Usually, 1 cleaning per month is enough to keep the washing machine clean and fresh like a new one. The mild formula without additional fragrances cleans the inner surfaces of the device gently and carefully and helps perform its operating task longer and better. Regardless of the frequency of the washer's use, soap deposits and dirt will inevitably remain in its hoses, an elastic band near the tank, as well as on the tub itself. The Duracare tablets may easily cope with this problem!
Size: 24 tablets Scent: Fresh Compatible with: Top load, Front load, HE washers
Many housewives are puzzled about keeping the inside of their washing machine clean. It is very difficult to do without the specialized products' help. This eco solution for washers' cleaning works wonderfully. These tabs aim to clean the mechanisms of your washing machine and return it to crystal-clear cleanliness.
Eco-gals remove even the toughest clogs of dirt, soap scum and make any washing machine work properly. A pack of 24 tablets is enough for 12 months of use. That's a whole year of careful and proper care of your main home appliance. The product eliminates not only soap and dirt deposits but also removes any unpleasant odors. At the same time, eco-gals do not contain additional strong fragrances. The product is safe for the washing machine, and the water obtained after cleaning is similarly safe for the environment.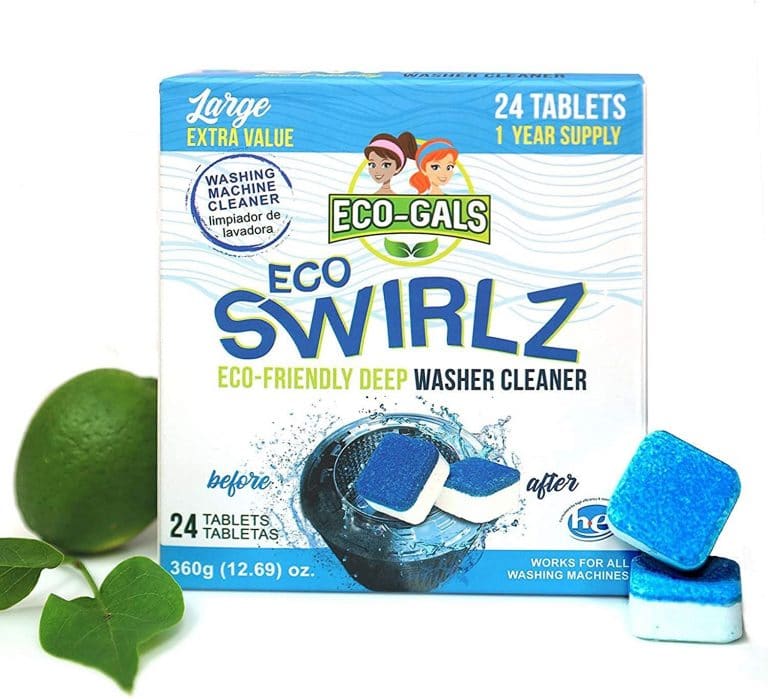 The manufacturer promises a 60-day guarantee. So forget about the unpleasant smell in the tank of your washing machine, and prolong its service life. With regular use of the Eco Swirlz solution, you will ensure the stable performance of your top or front load washer. When all the dirt and soap clogs are removed, it will run like new. Eco-Gals feature the most excellent way to take care of your washer.
Size: 5 tablets Scent: Unscented Compatible with: Top load, Front load, HE washers
If you own a top, front load, or even HE washer, apply this Breather Fresh cleaner to refresh your device's mechanisms gently. Use 2 tablets for 1 washing cycle and enjoy perfect results. The offered Breathe Fresh washing machine cleaner can solve the problem of dirt and unpleasant odors accumulation inside the washing machine quickly and effectively.
This is an all-in-one solution safe for your washer and ruthless against even serious dirt accumulations. This solution is also not aggressive towards various types of septic tanks. The triple formula of active ingredients is even more powerful and proven to be effective. No matter what powder you prefer – it can't be thoroughly washed out after the washing process. Its particles remain on the mechanisms and in the hoses.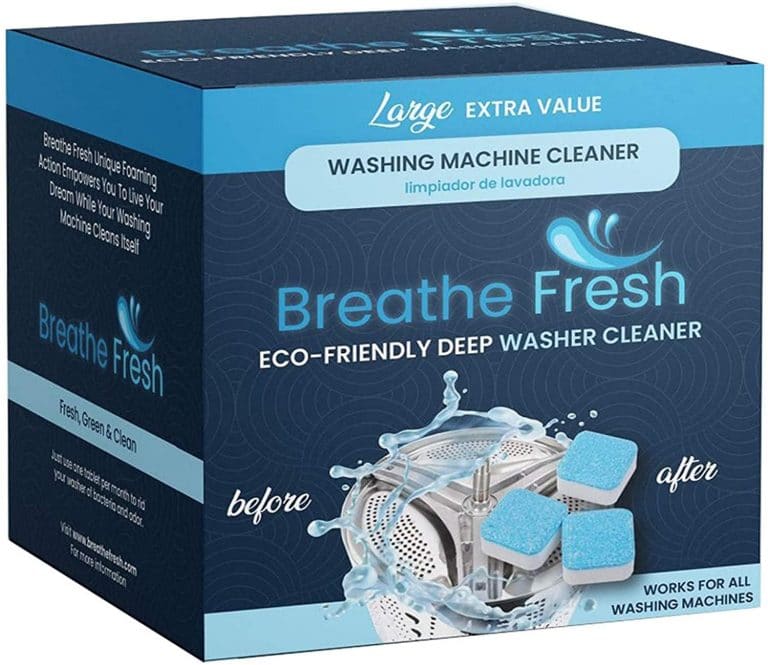 Over time, they become the cause of washing machine's blockages and breakdowns. They are also guilty of highly unpleasant odors inside the tank. Having familiarized yourself with the mass of the Breathe Fresh washing machine cleaner reviews, you will understand how effective this product is in fighting against odors and dirt residues. These tabs are incredibly easy to use. First, empty the tank, place 2 Breathe Fresh tablets inside, start the Self-Cleaning cycle. It will take about 15 minutes to dissolve the tablets and form a soft foam. Next, pause the washer and wait for 3 hours (presoak). Then start full Wash and Rinse cycle. After this, the device is crystal clean and fresh, ready to gladden you with the best washing results again and again!
Guide to Buying the Best Washing Machine Cleaner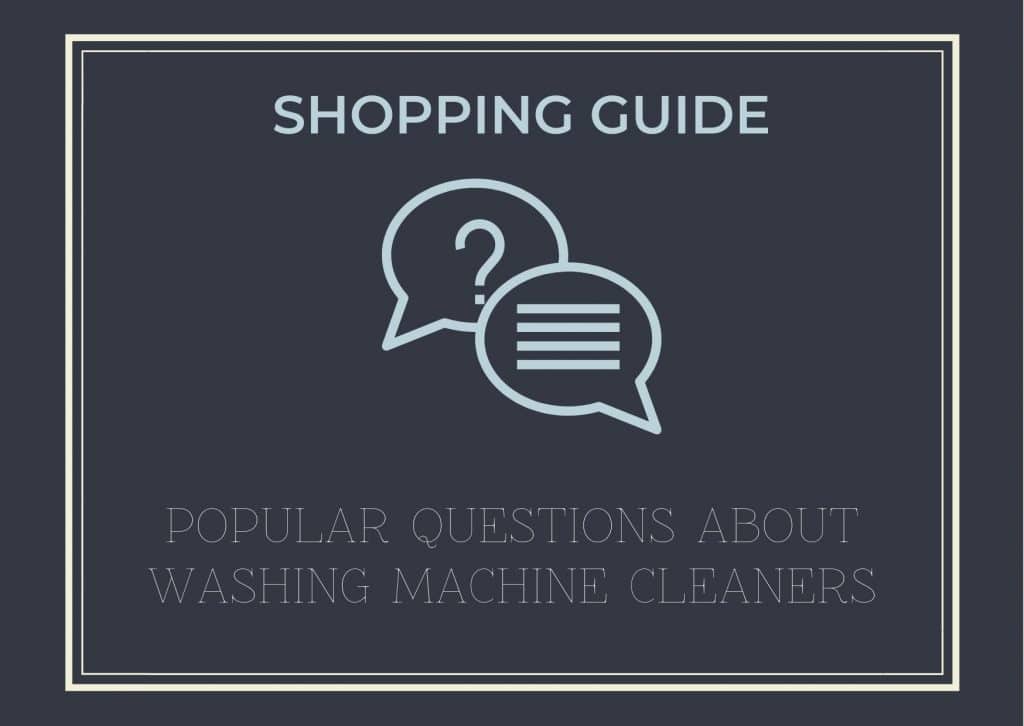 Having studied the subject washer cleaners, we will tell in detail about the most necessary questions for those who want to know more about these solutions.
Washing machine cleaners guide is a collection of questions and answers that will reveal many unknowns about different cleaning agents and ways of washing machines maintenance. All tips and advice here can help you to prolong the use of your devices and make them work longer with the best possible effect.
What is the best washing machine cleaner?
In order to determine what is the best washer cleaner, you will need to try out several formulas. This is the only way to understand how effective a particular product is. All the washer machine cleaner solutions included in our rating are well-proven and can safely claim to be the best. Nevertheless, the most worthy of the leading position is considered to be Affresh Washing Machine Cleaner for Front and Top Load Washers. The proposed washer tub cleaner is at the top of the discussed today ranking because it wins on several criteria. These are efficiency, safety, and price tag. Optimal front load washer cleaner's price-quality ratio allows it to be in deservedly high demand. We strongly recommend trying this product. It is characterized by the foam formation that easily removes any deposits (from water, powder, dirt after washing clothes, etc.). This antibacterial washing machine cleaner has earned the highest ratings from customers, and most likely justifiably so. This is a universal cleaner for all kinds of modern washing machines.
Where to buy washing machine cleaner?
Many owners of modern household appliances desire to get the answer to this question. Where to acquire the HE washer machine cleaner? Actually, this is not a secret. Mentioned washer cleaner tablets are freely sold both in household appliances supermarkets and in stores with household chemicals. Also, one may purchase the HE washer cleaner remotely without leaving home. Today almost any store has an online platform through which any customer can buy the desired product. That is, you can buy washing machine drum cleaner from various brands via the Internet. Choose the needed washer and dryer cleaner, add items to the cart, pay by card. Depending on the store location and service conditions, the demanded high efficiency washing machine cleaner will be delivered to the purchaser in 2-5 days. Buy one of the mentioned in our review front load washing machine cleaner and give your washing machine a clean and pleasantly fresh scent. Multiple washing machine cleaner reviews confirm the high effectiveness of such remedies.
How to use Tide washing machine cleaner?
Before you apply the top or front loader washer machine cleaner, read the instructions for use thoroughly. However, there is nothing difficult to understand in this document. Though do not neglect it and familiarize yourself with it constantly before the first cleaning cycle. So, you have managed to purchase the desired cleaner for washing machine. For instance, this is a Tide product (or any other presented on the modern market). How to clean the washer? First of all, empty the washing machine tub of any items that may be placed in it. Natural washing machine cleaner, of course, will not ruin your clothes; however, it is essential to free it of outsider objects for the highest quality of washing machine cleaning. Next, take the best washing machine cleaner for front loader washer and add 1 tablet (sometimes this may be even 2 pieces) strictly in the detergent dispenser. Finally, if you own the top load washer, put the solution into the washer's tub.

The second step is choosing the correct washing cycle. If your washing machine has a special cycle for self-cleaning the device, now is the time to start it up. If not, run Normal or Cotton cycle. The main thing is not even the washing cycle type, but the setting of a sufficiently hot water temperature. This will allow thoroughly dissolve the cleaning tablet in the water and reach wonderful results.

How often is it acceptable to resort to these magic cleansing tablets or capsules' help? The manufacturer usually recommends using the HE washing machine cleaner at least once a month. But sometimes, there are exceptions to the rules. For example, if the washer has never been cleaned in this way and is in poor condition, you can use 2 tablets. Also, if you wash a lot and often, it is acceptable to clean the washing machine in this way every 2 weeks, that is, 2 times a month. In short, listen to the manufacturer, but at the same time, do not forget to take into account the individual needs and your family's life rhythm. Such tablets are absolutely non-aggressive to the mechanisms of washing machines and safe for septic tanks, so you can use them as often as the dirty household appliances require.
What is an Affresh washing machine cleaner?
What is the tub cleaner washing machine solution? These are tablets consisting of several active components. Their action is aimed at cleaning the internal mechanisms of the washing machine. Today, you can see many different manufacturers brands of such tablets on sale, but they all act approximately the same. So, comparing Affresh vs Tide washing machine cleaner, you will find that both products are excellent and effective. These tablets dissolve in water slowly and form a soft foam with a light scrubbing effect. Thanks to this foam, the insides of the washing machine are cleaned from powder residues, dirt, moldy plaque. Tide washing machine cleaner vs Affresh – so, what is better? It's up to you what solution to purchase. Pay attention to the quantity and shelf life of the tablets offered. Experts advise choosing small packages if you want to try the concrete front loader washing machine cleaner for the first time. If you are aware of the perfect efficiency of the Affresh cleaner for washing machine you can safely buy a large pack that will last you a year or two of washing machine care. Go back to the beginning of our review and choose the best washing machine cleaner for top loader or front loader washer. These household chemicals are considered the secret weapon against scale and dirt, allowing you to enjoy high-quality washing of any clothes for as long as possible.
NAVIGATE OUR TOP 10 WASHING MACHINE CLEANERS
Copyright 2022 © Washing Machins · All Rights Reserved ·
WashingMachins.com is a participant in the Amazon Services LLC Associates Program, an affiliate advertising program designed to provide a means for sites to earn advertising fees by advertising and linking to Amazon.com.