The 10 Best Top Load Washers Without Agitators of 2022
By Amy Mitchelle / Last Updated: September 12
Nowadays, washing machines rightfully act as the first home helpers. Such a device absence complicates life, fills it with unpleasant troubles and daily time waste. Our latest review will assist you in the best and most reliable washer without agitator detecting. We have tested lots of washers' models so that you can choose the highest quality and most effective solution. This review will focus on such household appliances as a top load washer with no agitator.
Our review aims to assist you in choosing the best top load washing machine (without agitator). These technique items are considered to be more improved and reliable in work than agitator products. Let's find out the most trusted washers models and declassify all the washer without agitator pros and cons. An indisputable advantage of such devices is time reduction for different washing cycles (in comparison with agitator added models). Of course, we cannot remain silent about the shortcomings of such devices – washing machines no agitator type are characterized by high water consumption. Though they continue occupying a leading position among the most demanded washing appliances – a huge number of consumers around the world have managed to make sure of their excellent operation quality.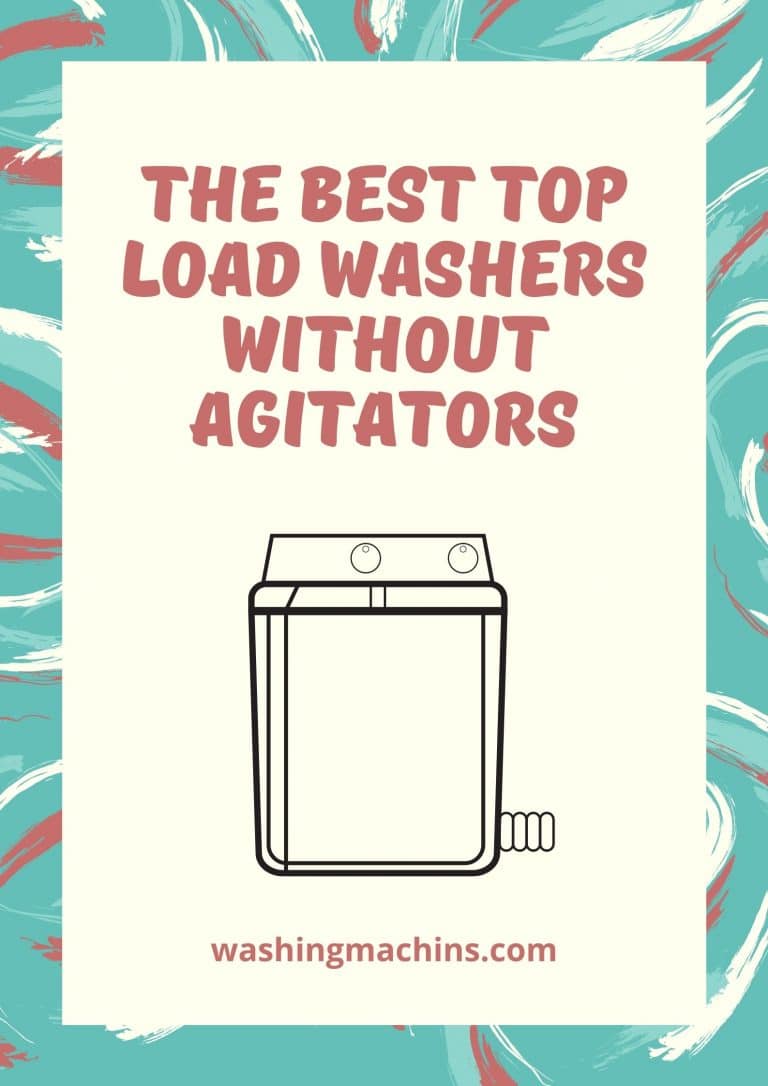 Our Top 3 Washers Without Agitators
Look through our Top 3 list of the top load washers without agitators
Best Top Load Washers Without Agitators of 2022 - Top 10 Reviews
We have tested mass of washers in order to suggest you these 10 products
* $ – under $500; $$ – under $700; $$$ – under $1000.
Stylish appearance, 5 Cu. Ft. tank capacity, digital control panel, and 3D washing technology – yes, this is all about the presented washing machine without agitator LG WT7300CW.
Its tub, according to the manufacturer's assurances, is made of durable and high-quality stainless steel. The product will prompt you to use any of the 8 available washing cycles and 14 options. Also, it suggests 5 temperature modes, permitting to wash clothes with various fabric types (cotton, silk, synthetic, wool, etc.).
LG top load washers with no agitators have long occupied leading positions in various household appliances ratings – the name of this brand is on everyone's lips. This model confirms the indestructible LG authority and demonstrates high-quality characteristics (excellent washing quality, gentle and efficient spinning at the same time). An evident advantage is the transparent cover of the device. Despite the fact that you can always observe the washing process through it, it is made of fairly strong and durable plastic.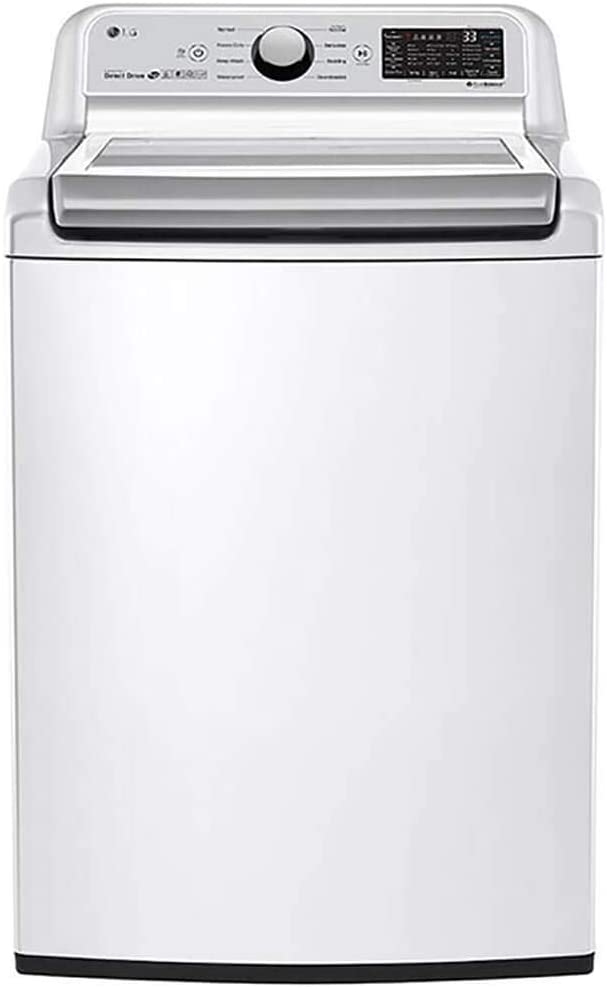 So, the presented washer machine without agitator combines reasonable price, fine spare parts and materials quality, rich functionality.
The top load washer without agitator from Whirlpool features 4.3 Cu. Ft. tub capacity, spinning power 660 RPM, fashionable white exterior.
The variety of options makes this device one of the best top load washer without agitator. During the washing process, clothes are influenced by 11 different washing actions – each of them gently and thoroughly cleanses the fabric fibers, ensuring high-quality washing and care. The inner surface of the drum is complemented by soft waves, which also allow you to clean your laundry as gently as possible. This is one of the best top loader washer without agitator – high rates confirm this fact. The specific impeller design allows providing as much free space as possible to load clothes and ensure thorough mixing.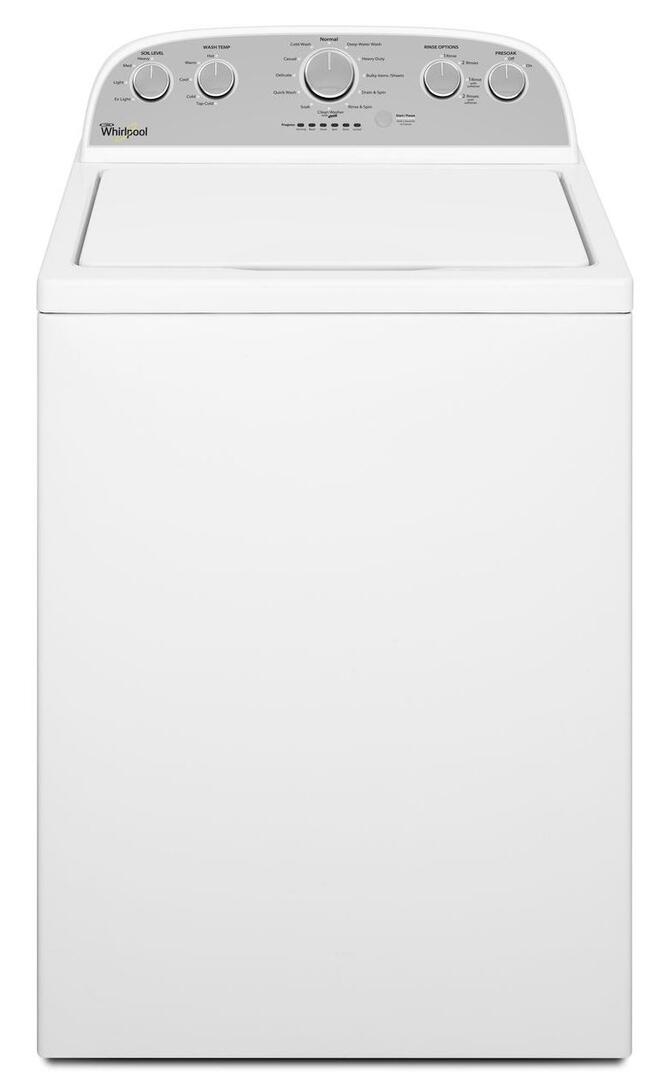 This Maytag product is related to the Bravos Series. The presented washing machine no agitator type is a 28-inch device with a thoughtful control panel design, transparent plastic lid (tinted glass framed by white plastic), 660 RPM spinning power, UL Certification, 11 washing cycles.
 The top load washing machine with no agitator from trusted Maytag brand presence a combination of modern design and user-friendly control. It is pretty stylish, ready to decorate your bathroom, and at the same to delight you with constant stable operation. This top load washing machine no agitator has a 4.3 Cu. Ft. tank. The producer reminds us that the washer's tub is made of durable material – stainless steel. The product is top load, so you will have no problems and discomfort while loading it with laundry (no need to bend low, exposing your back to unpleasant sensations).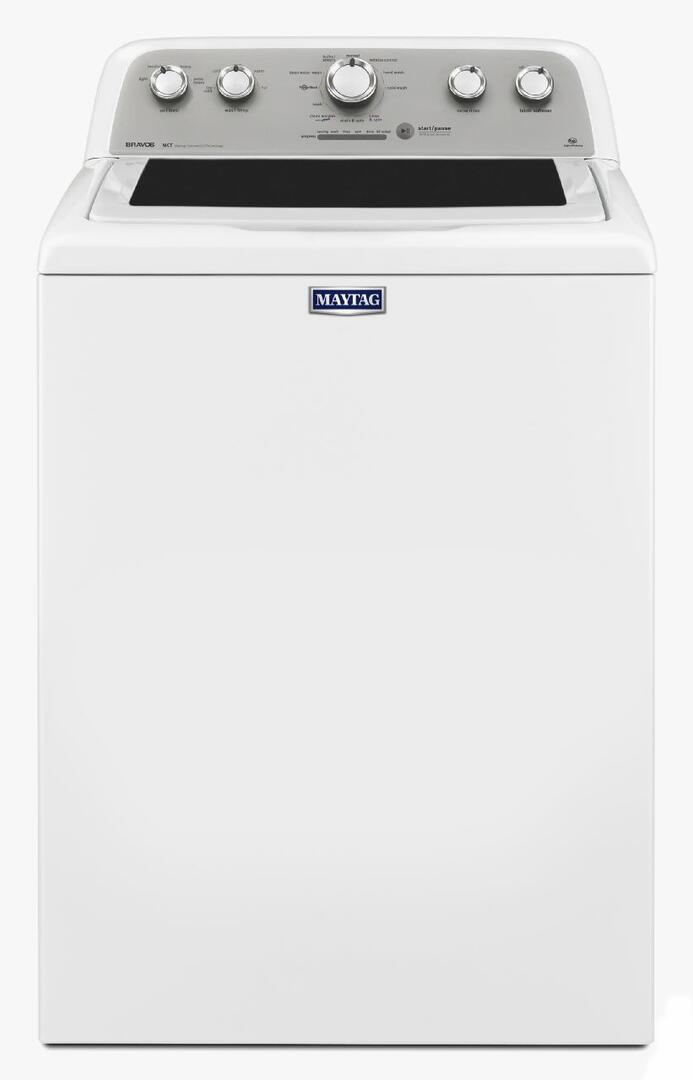 Featuring 5 Cu. Ft. tank, the presented top loading washing machine without agitator from the reliable Samsung brand, will delight you with efficient and almost silent operation. It offers 7 wash options, each ready to clean your laundry individually (in accordance with the fabric type, its color, other nuances). 
The given top load washing machine without agitator has a transparent lid. This nuance gives the ability to watch all the processes inside. The digital control panel has a timer, so you will always be aware of the remaining time (until the washing cycle ends). The LG top load washer no agitator offers 5 temperature regimes, perfect for different fabric types (cotton, silk, wool, etc.). Choose the preferable cycle according to the washing plan (Deep Wash, Perm Press, Bedding, Heavy Duty, Normal, Quick Wash, Delicates, Rinse and Spin, Spin only).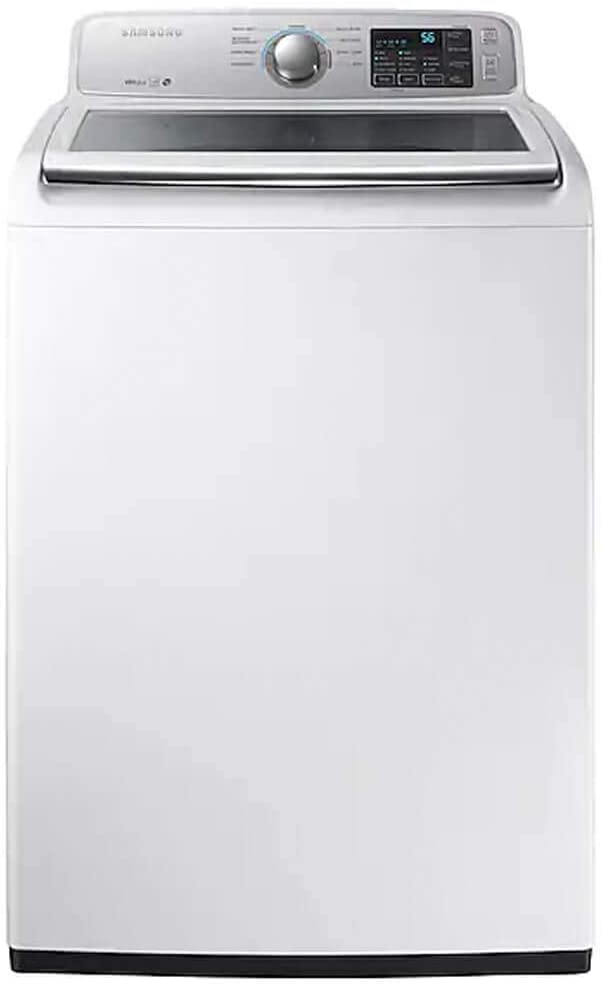 The given Magic Chef product offers you silent operation, modest tank capacity (3 Cu. Ft.), 6 automatic washing options, 3 water levels, and 3 temperature regimes.
This is a compact no agitator washer, added with all the needed accessories and spare parts (hoses, adapters, fixators, etc.).
This washing machine is a compact and practical solution. It is ideal for placement in country houses and summer cottages. Perhaps due to its modest size and excellent washing quality, this product is regarded as the best top loading washing machine without agitator (among small ones). The Magic Chef top loading washer no agitator type is added with 2 compact wheels, simplifying the device's moving from one place to another (the wheels are located on the backside). The appliance has a durable and robust steel body.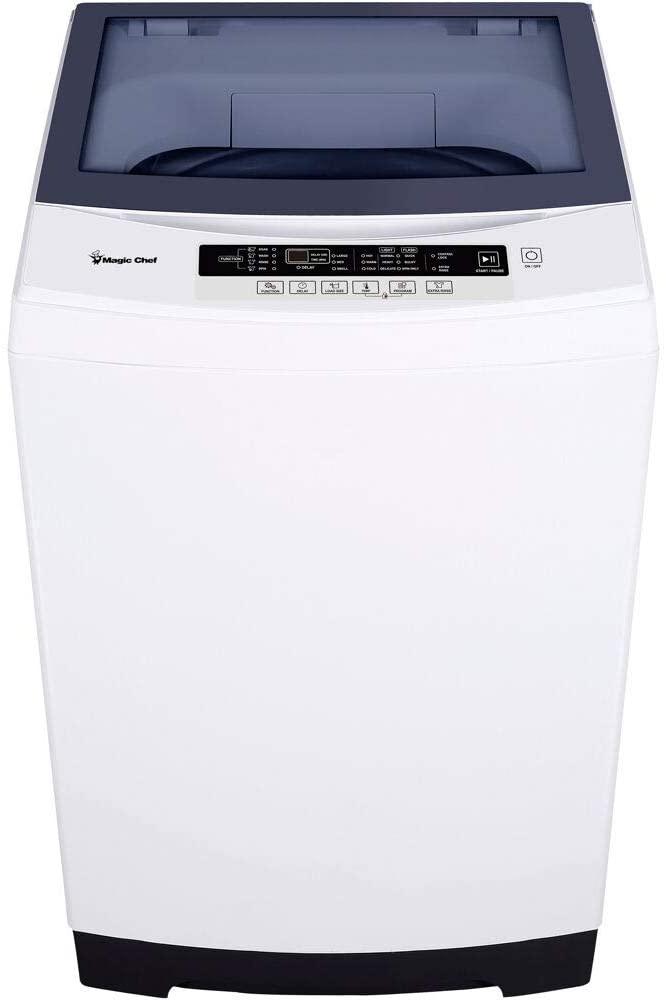 The given product is most popular due to Six-motion technology. It mixes laundry thoroughly, ensuring maximum fiber cleansing from all types of impurities.
This LG top loader washer no agitator may offer you 4.5 Cu. Ft. tank, 950 RPM spinning, 3 temperature regimes, 8 washing cycles, and 10 additional options for individual clothes cleaning.
The device may wash any of your garments – just choose the correct option, select the preferable temperature, and add detergent. The washer no agitator from the well-known LG brand is a combination of astonishingly stylish appearance, digital control (convenient and pleasant to cope with), and almost quiet spinning. The device is complemented with the attractive, transparent lid. It suggests broad functions raw – for heavily and slightly clothes. Its tank is roomy enough, allowing you to wash both small and large laundry volumes (for example, the appliance will do a great job washing bedding or even blankets).
This no agitator washing machine is a modern decision for exacting owners. It suggests enormous options set, including Wi-Fi connection, Super Speed technology, roomy and improved tub (5 Cu. Ft. capacity), multiple innovative washing options, and regimes.
The producer promises 1 year warranty for the device. The top loading washing machine no agitator type is equipped with the Self Clean option, so you may be sure in its perfect cleanliness not only outside, but also inside (which is especially important for washing machines). Such LG top load washers without agitators amaze with their attractiveness and versatility. These are smart enough appliances that provide wardrobe individual attitude. Use any of the 12 available washing cycles and powerful 750 RPM spin in order to get perfectly clean, fresh, and almost dry garments.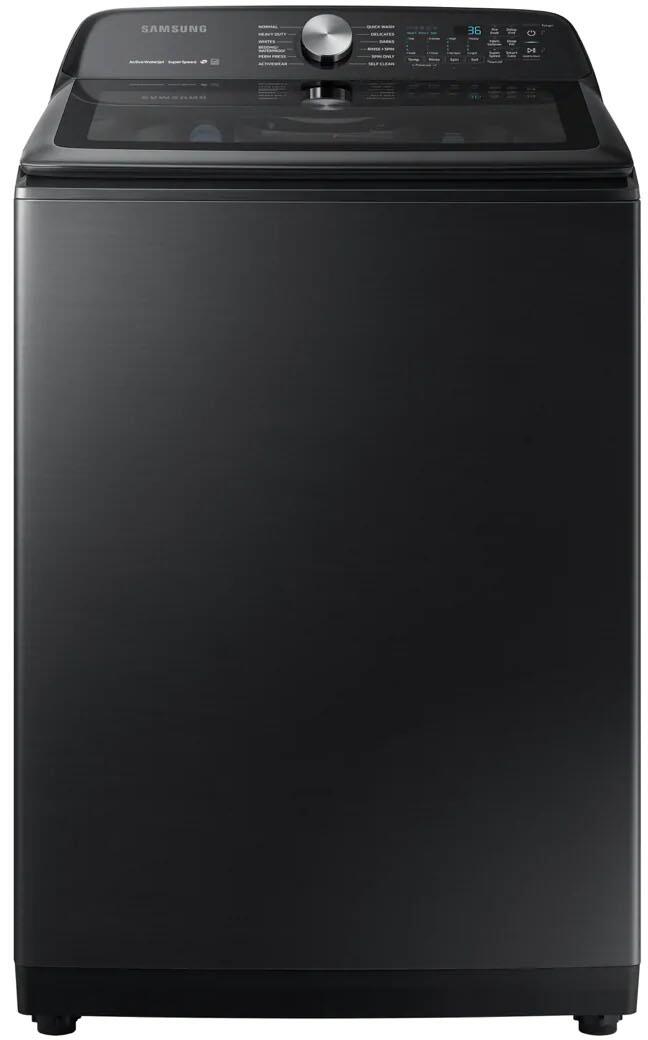 This top loader washing machine without agitator belongs to the middle price segment while demonstrating good technical performance.
The tank capacity is 4.3 Cu. Ft. Note that it is added with a specifically designed impeller (Triple Action).
This nuance provides more thorough clothes mixing and improved washing results. The product has fairly deserved the Energy Star label – the washing machine has been proven to consume the minimum permissible amount of electricity and water. This is the traditional washer with agitator at a profitable price tag. Our latest washing machine without agitator review confirms the high quality of the appliance, the availability of various washing and spinning modes, the presence of excellent classic design.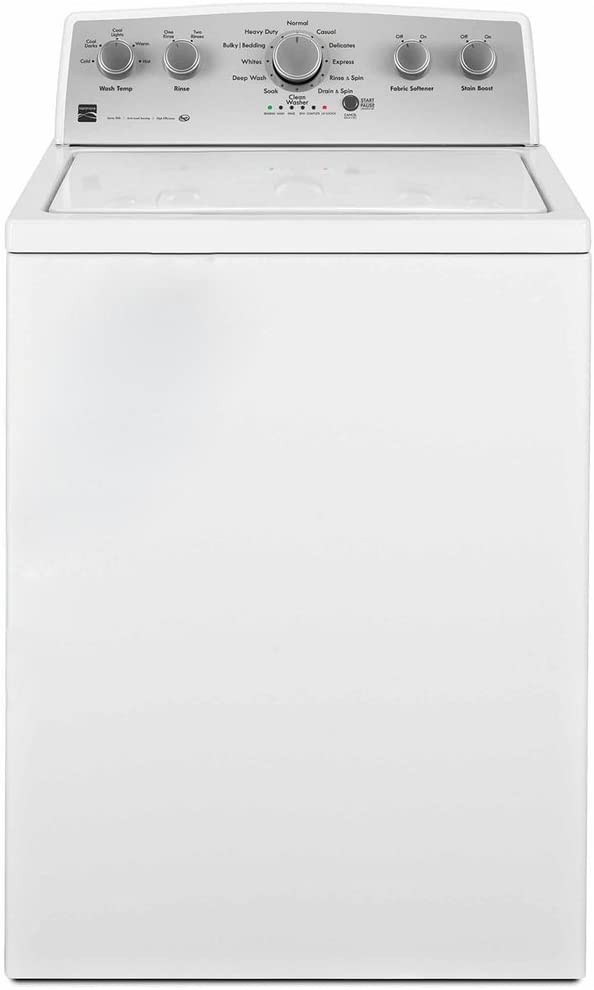 This non agitator washer from GE brand will pleasantly surprise you with ease of operation, thoughtful design, and reliability.
The control panel of the given washer consists of 1 basic central relay and 4 additional relays. By scrolling the wheel, you may easily select the preferred mode.
Users of such non agitator washing machines may apply any of the 13 available washing cycles. Spacious drum with a capacity of up to 4.6 Cu. Ft. is made of durable stainless steel. According to the recent washing machine without agitator reviews, this product is high-efficient, eco-friendly and economical enough (Energy Star mark). 6 temperature options (Tap cold, Cold, Cool, Colors, Warm, Hot) give the opportunity to wash any laundry individually (wool, cotton, silk items, white laundry, colored, etc.). The maximum sinning power is equal to 750 RPM.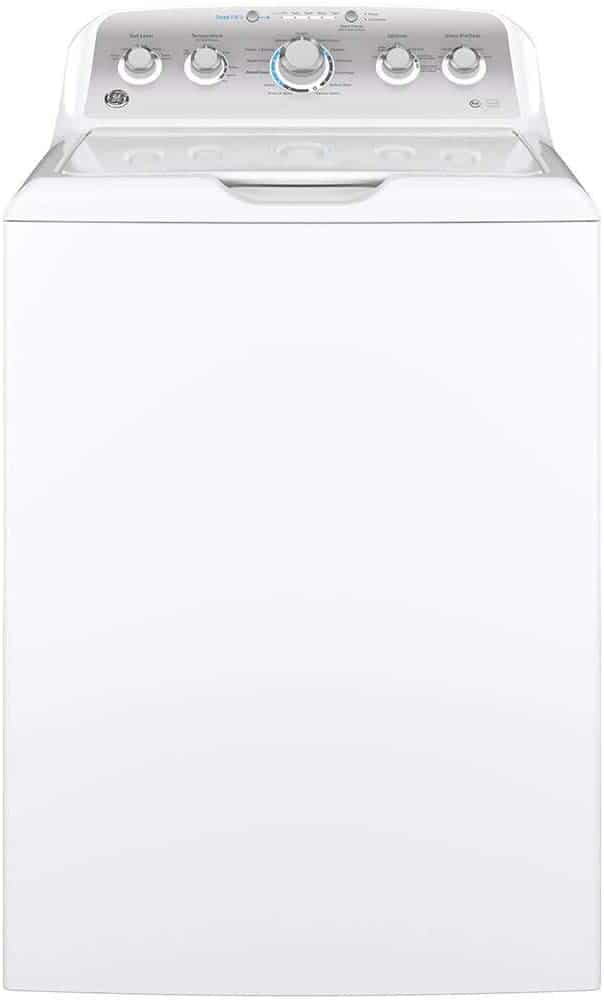 This is one of the most spacious washing machines with top load laundry load.
It suggests 5.3 Cu. Ft. capacity tank – strong and durable. Examining multiple washer without agitator reviews, one may conclude that this product is worth its price! What do you get, purchasing this model? 
The Maytag top load washer without agitator reviews say that one gets stylish, attractive washer with 850 RPM spin power, Self-Wash option, 11 washing cycles for various fabric types. This product possesses the Energy Star label (low water and energy consumption). It also includes UL Certification as well. This top loading washing machine without agitator reviews confirm that the washer's drum is made of stainless steel (solid and long service life). The appliance suggests a new Power Wash cycle – its peculiar trait. This cycle helps to remove even the most persistent dirt without harming the clothes.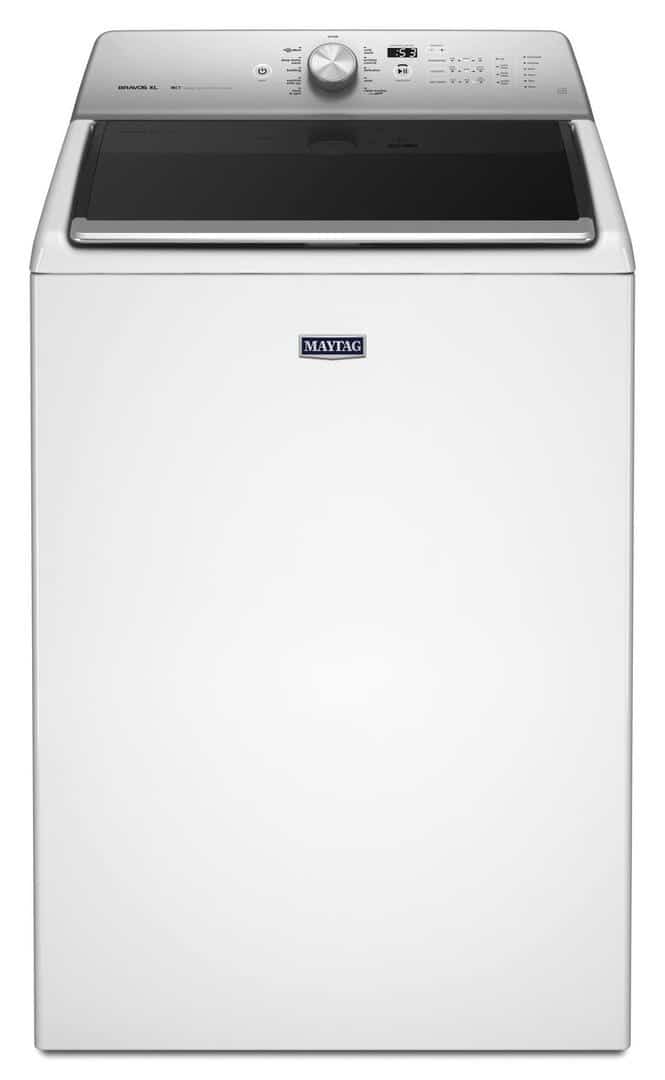 Guide to Buying the Best Top Load Washer Without Agitator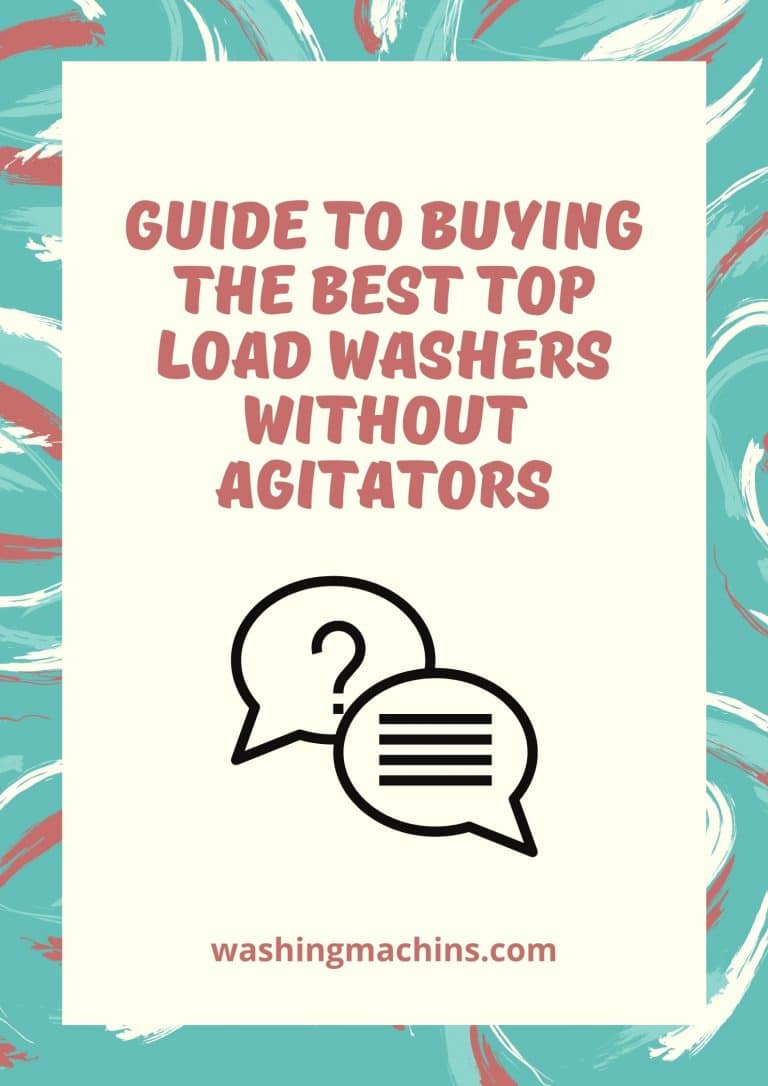 How to load a top load washer without agitator?
There is no specific difference between loading the agitator and non agitator washers. All you need is to prepare dirty laundry, choose and add liquid or dry detergent, open the lid, and load the drum. So,  washing machines without agitators are loaded easily, like appliances with agitator. Specialists recommend avoiding full tank filling in order to achieve the best washing result. The optimal washer tank load is considered to be 80%. With a full load (especially heavy and bulky items – towels, blankets), the quality of the wash may suffer. Most purchasers choose the top load washing machines without agitators because agitator absence allows you to get more free space (usually, the agitator takes up part of the space that dirty laundry could take).
Are washing machines without agitators better?
Owners of the top loading washing machines without agitators claim that these devices offer more gentle clothes treat, in contrast to their competitors with agitators. Also, multiple reviews say that in parallel with a gentle wash, these devices demonstrate lower washing quality indicators (the agitator permits to mix and shake laundry well). Nevertheless, all these statements are relative because the quality of washing and other parameters is individual for each appliance. The top loading washing machines without agitators feature a more spacious tank and careful laundry attitude. These are modern, improved solutions. According to the latest washers without agitators reviews, these products possess modern, fashionable case design. May be due to this fact, the majority of purchasers choose the top loading washing machines no agitator type. Each user should make a decision if the agitator added products are better or no. The final decision usually depends on individual family needs, budget abilities and limits, specific demands.
How does a washer work without an agitator?
Users wonder how does a washing machine without agitator work? These appliances function thanks to the impeller. This is a spare part alternative to the agitator. Both these elements present in all the modern top load washers, but function differently. Agitator washing machines possess the funnel, placed in the center of the tank. Washers without agitator have a low-profile disc (usually Triple Action), which rotates and provides friction between clothes. The advantages of such washers without agitator are revealed in larger tubs and low water consumption. They use modern technologies and help to reduce water consumption. The consumed water reduction provides maximum friction moves during the washing process. This evidently improves the cleanness results. That is how most models of no agitator washers operate.
What is the best top load washer without agitator?
Choosing the best top load washers without agitators, specialists recommend paying attention to several points. First, note that reliable and profitable devices should possess the Energy Star mark. This confirms that the given appliance consumes the minimum allowable water and electricity amount (without affecting the quality of the work performed). Secondly, one should focus on the top loading washer without agitator reviews. It is known that today every second household appliances consumer leaves a comment or an honest review of the purchased piece of equipment. This is also applicable to the top loading washing machines. Thirdly, try to trust famous brands that have managed to establish themselves as the highest quality and most reliable.
What is the best top-load washing machine with no center agitator? Such products are suggested by LG, Samsung, Maytag, Whirlpool brands. For instance, this is a Samsung WA50R5400AV – really one of the worthy representatives of top load products with the impeller. It offers a spacious tank (up to 5 Cu. Ft.), powerful spin (750 RPM), 12 wash cycles (including Sanitize cycle), incredibly stylish case design. This top-load washing machine without center agitator has the only disadvantage – a high price tag.
NAVIGATE OUR TOP 10 TOP LOAD WASHERS WITHOUT AGITATORS
Copyright 2022 © Washing Machins · All Rights Reserved ·
WashingMachins.com is a participant in the Amazon Services LLC Associates Program, an affiliate advertising program designed to provide a means for sites to earn advertising fees by advertising and linking to Amazon.com.