How to connect a portable washer to a kitchen sink?
By Amy Mitchelle / Last Updated: July 7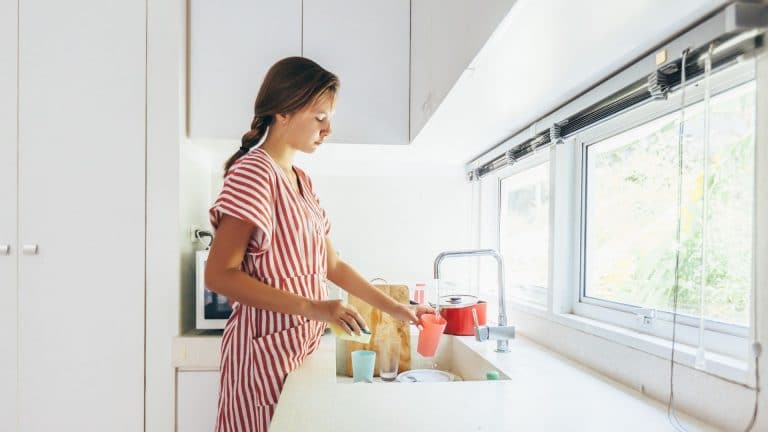 Any compact portable washing machine is an extremely convenient, practical, and trustworthy means of washing clothes. Modern sophisticated designs allow you to wash even large laundry loads effectively in such equipment: sheets, blankets, curtains, bedding, rugs, and all the other types of household fabrics. The washing machine you want to install in the kitchen will require maximum attention and a little patience from you. So, we will focus on how to place small washing machines near the kitchen sink or in the dining zone. Functionality and convenience are highly valued features in any kitchen, regardless of its size. In this view, hostesses prefer to use two-in-one solutions – portable washer and dryer devices.
Proper instruction reading
Each portable washer comes with detailed instructions, informing users how to install it in a kitchen area or bathroom. Most often, the installation process will not be complicated and require a few minutes. This is almost always true when a professional plumber installs it since it will be a completely routine job for him. However, installing the portable washing machine by yourself is another issue.
In this case, you need to follow all the manufacturer's recommendations on its installation very closely in order to avoid unforeseen problems and unpleasant scenarios. If you decide to install a portable washing machine in the kitchen area, decide a few things beforehand. The first is the type of washing machine.
It is optimal to choose front-load solutions, as they allow you to use the top of the appliance as an additional work surface. Second, think about a suitable design and size of the washing machine. Most likely, it will be installed close to the sink, so it should be compact and functional at the same time. One more important point – clarify whether the selected model of portable washer has the necessary set of universal nozzles and fasteners to connect the hoses and start the device safely.
Easy and reliable portable washer installation in the kitchen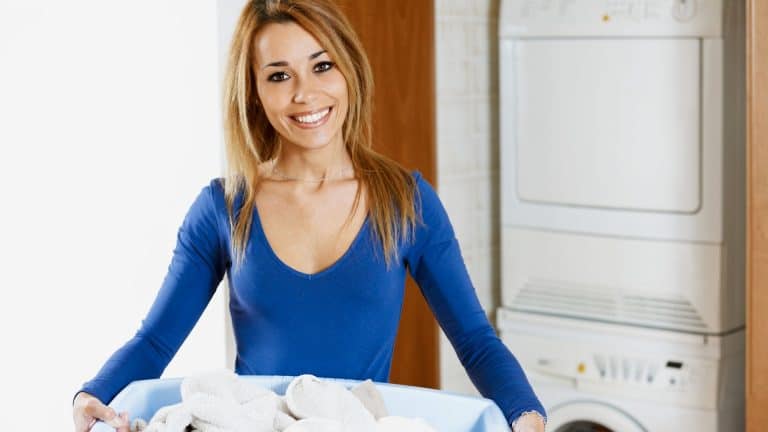 Connecting your portable washing machine to a kitchen sink can save you a bit of time and water. Here's how to make sure it's done safely. To connect the portable washing machine to your kitchen sink, you will need to find the drain and water supply connection on the sink. The faucet will serve as the hot water supply and the drain as the supply for cold water.

Any modern portable washing machine model is equipped with a set of necessary hoses and fasteners for their reliable fixation. Nevertheless, at the stage of the device selection, check their availability with the seller. All of these components — the inlet hose, the water inlet valve, and the flow control valve — should be factory-fitted at installation. Sometimes they need additional tightening during operation after moving or transportation. A loose-fitting can be dangerous, so don't skip this step.

How to connect portable washer drain hose? 1. Pop up the screw at the back of the machine, and remove it. 2. Remove 2 screws on the bottom of the machine, lift the machine up a little and pull out the drain hose underneath it. 3. Up against one end of the plastic hose, you will find a flat rubber washer that fits down over the end of a rubber faucet connector. 4. Pull off the washer, and there will be a hole enabling you to force a long thick wire through and push out a small metal plug, thereby releasing internal pressure from within the washer hose. 5. Connect 1/4-inch male adaptor to faucet connector (to be adapted into your sink).

If you are wondering how to connect a portable washer to the kitchen sink, several alternative methods are available. A laundry tub can be installed under the sink, or you could create an alternative P-trap, vent it with an air admittance valve and connect to the 2-inch waste pipe into which your sink trap empties using a sanitary tee fitting.
If you regularly connect the drain hose of the portable washing machine to the sink, it is worth remembering the possibility of backflow. What to do in such a case, and how to prevent it correctly? One way to solve this problem is as follows: before connecting to the sink drain, make a loop in the drain hose, which will rise above the rim of the sink.

Once the machine is filled with water, you are ready to run the device through a cycle. Most portable washing machines will have a user-friendly control panel, so even an elderly person may readily cope with it. Set your washing machine to the appropriate cycle and turn on the tap. Many portable washers have a small pump motor built-in. This powers a small pump inside the unit to pull water from the faucet and push it through the washer. To drain your device, simply turn off your faucet and disconnect the drain hose from your washing machine.
The portable washer will become your best home mate and will look sumptuously even in the kitchen. Proper installation and careful use will ensure its durable and qualitative service life.
Copyright 2022 © Washing Machins · All Rights Reserved ·
WashingMachins.com is a participant in the Amazon Services LLC Associates Program, an affiliate advertising program designed to provide a means for sites to earn advertising fees by advertising and linking to Amazon.com.