How to wash shoes in a washer?
By Amy Mitchelle / Last Updated: February 21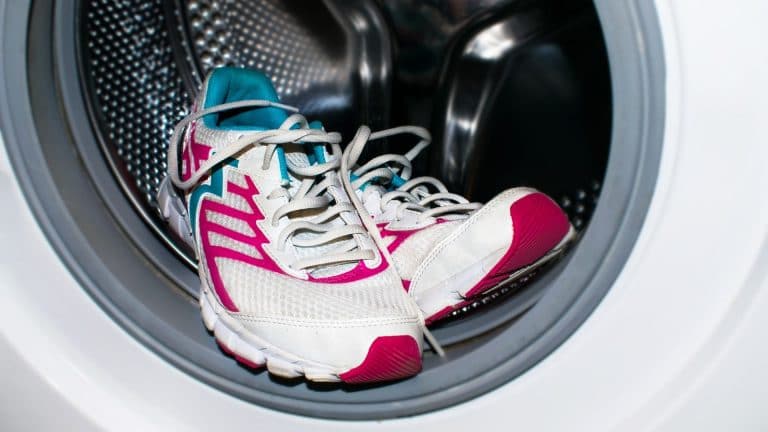 It's no secret that you can use a washing machine to clean not only clothes but also shoes. Of course, not every shoe can be washed in a washer; for example, classic lacquered shoes or women's high heel shoes can deteriorate from such treatment. Most often, we are talking about washing sneakers, trainers, or gumshoes. These sports shoes have a woven base and therefore can be washed not only by hand but also in the washing machine. Modern stationary or even portable washing machines may cope with this task perfectly. Let's find out the basic expert advice on the recommended wash modes, type of detergent, and wash duration.
How to wash a pair of shoes in a washer?
Washing your shoes in a washing machine is no longer a surprise. And if you have never tried cleaning your sneakers this way, we strongly recommend trying this method. The most important thing is to adhere to a few simple rules, which we plan to discuss later in this article. All kinds of modern washers, including large top load washers, may manage this task.

How to wash shoes in a washer, and which shoes can be washed in this appliance? These are nylon, polyester, cotton products. It is worth refusing this cleaning method if your shoes are made of genuine leather, vinyl, or suede. Also, do not machine wash shoes if they have loosely sewn decorative elements (for example, beads, plastic, metal). If it is possible, remove these elements before washing, and get it started.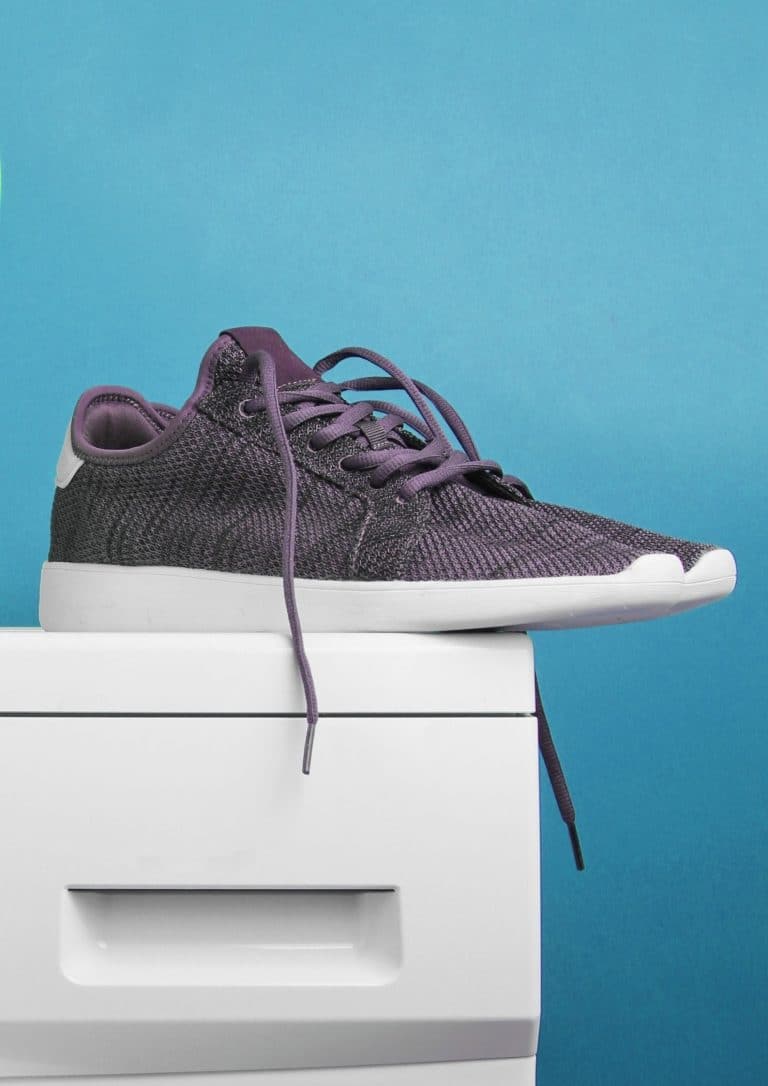 It is important to note that there is no special mode intended strictly for washing shoes in most of the low and medium-price category washing machines. However, this does not mean that you have to give up such an undertaking.
So, what is the algorithm for washing shoes in a washing machine? First, clean the soles of your shoes, especially if they are heavily soiled. Uncleaned dirt can stain the woven fabric. Remove insoles and laces from shoes if necessary. These items can be washed by hand or not cleaned at all if they are not stained. It is optimal to place shoes in a special mesh cover. It will provide gentle cleaning and protect your shoes from rapid wear. The next step is to load the shoes into the tub of the washing machine. If you have multiple pairs of sneakers of a similar color (both are light or both are dark), you can wash them in one cycle. If the shoes are different in color, do not risk it, but wash them separately.

Next, add the liquid powder to the detergent drawer. Experts advise giving preference to liquid detergents since they are less aggressive and capable of creating a moderate, dense foam for gentle cleaning. Washing should be carried out with cold or slightly warm water. At the end of the wash cycle, dry the shoes naturally (in a warm, well-ventilated place or in the fresh air). Avoid direct sunlight during the drying process.
Recommended settings to wash shoes in a washer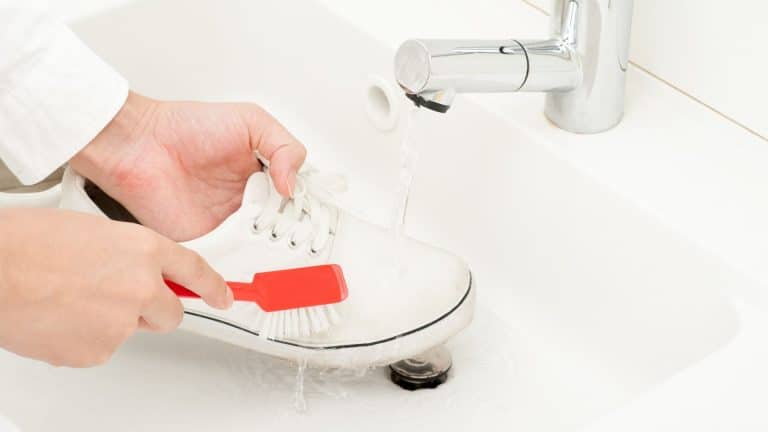 Which wash cycle is the best to clean your shoes in a washer effectively and gently at the same time? The appropriate mode choice is an important nuance. It influences the success of cleaning and the integrity of your shoes. The delicate mode is recommended for your shoes or sneakers washing. The washing time should not exceed 30 minutes. Try to reduce the time of water exposure on the shoes. The water should be cold or slightly warm. Remember that hot water can ruin the appearance of your shoes and even change their size.

Also, a slight spin or no spin mode is recommended. Do not dry shoes in the dryer, as high temperatures can adversely affect them. Besides, do not expose the product to additional stress (even gentle cleaning in the washing machine is already a specific strain). Also, processing shoes in a dryer can cause various breakdowns in the device itself.

Natural shoes drying is recommended – indoors (on a warm, but not hot, radiator) or outdoors (on the balcony, terrace). Only natural air-dry can guarantee the preservation of the original appearance and functionality of the product.
How to wash white shoes in a washer?
One may apply all the recommendations mentioned above in order to clean white shoes in the washing machine. If you want to wash and bleach white shoes, for example, sneakers or trainers, you will have to purchase special gentle bleach detergent (liquid strictly). Such solutions for shoes cleaning are usually sold in modern household chemical stores. It is important to prepare the detergent in the right proportion (check the detergent ratio to water on the package). Next, soak the shoes in this composition for 5 minutes. Do not keep shoes in this bleaching solution longer than the specified time (this may cause damaging the fabric and spoiling the product's appearance). Next, wash the shoes following the above recommendations in the washing machine on a delicate cycle for 20-30 minutes. Use a mild liquid detergent without a bleaching effect.
As you can see, there is nothing difficult about washing your shoes. It is enough to follow a few important rules to wash your shoes without harm.
Copyright 2022 © Washing Machins · All Rights Reserved ·
WashingMachins.com is a participant in the Amazon Services LLC Associates Program, an affiliate advertising program designed to provide a means for sites to earn advertising fees by advertising and linking to Amazon.com.