Amana Gas Dryer NGD4655EW Review of 2022
By Amy Mitchelle / Last Updated: June 26
The presented Amana dryer is ready to suggest you 11 drying cycles and capacious 6,5 Cu. Ft. tank. We have decided to make the Amana gas dryer review so that you could understand whether this technique suits you and is really useful. Let's take a closer look at this home appliance with all its advantages and disadvantages. Welcome our latest Amana gas dryer review!
Large, capacious tank (6,5 Cu. Ft.)

Quiet and quick operation
Takes care of your clothes (prevents wrinkles)
6,5 Cu. Ft. tank capacity
11 drying options
Wrinkle Prevent and Dry Level Options
Cool Down Cycle
Large reversible door
Dryness control sensor
White case
Dimensions 42x29x28 inches (height, width, depth)
The Amana NGD4655EW has a sufficiently large door, thanks to which it's so convenient to load and unload linen. This nuance will be highly appreciated by housewives who are looking for convenient and most practical appliances in everyday life. The Amana 6.5 gas dryer also features a user-friendly control panel. In a word, this dryer is a basic type – so, any user can handle and configure it easily. Even if you are not used to exploiting modern household appliances, you will have no difficulties with its exploitation. Each button and lever is signed with an understandable designation. Also, when buying the Amana 6.5 gas dryer you will receive detailed instructions. Familiarize yourself with it, and you will not have a single question on the device's usage.
Wrinkle Prevent Option is one of the unique features of the Amana dryer NGD4655EW. What's special about it? This technology promotes gentle drying of your clothes, prevents wrinkles folds and unpleasant creases appearance. If earlier you couldn't perfectly iron clothes after the old dryer, now you will forget about such a problem. The Amana NGD4655EW review assures: even if you haven't unloaded the dried clothes from the dryer on time, after a while, they will retain their beautiful appearance.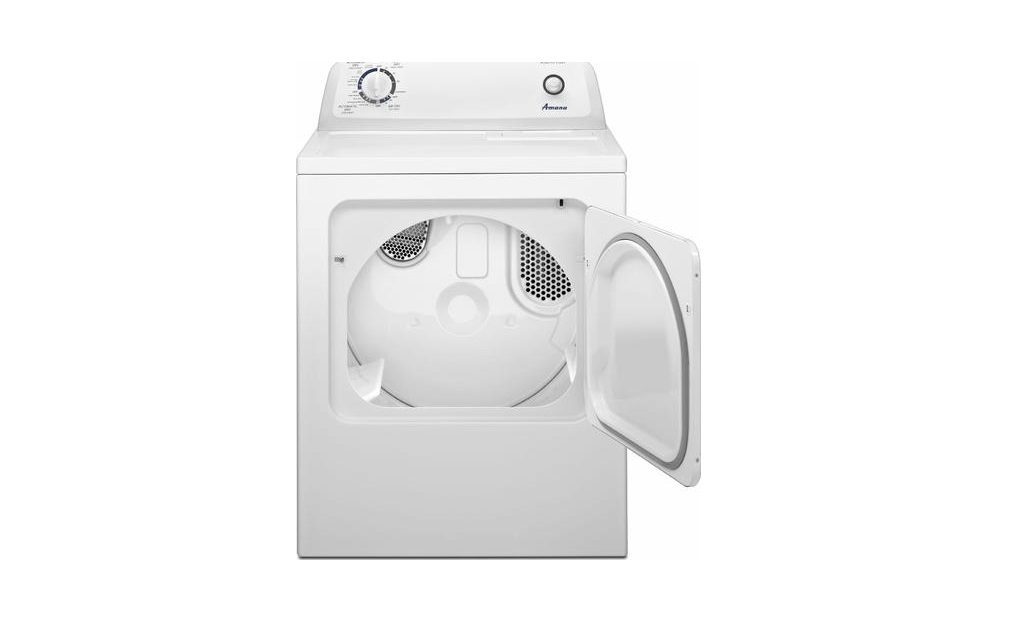 The Overdrying Prevent Option is no less noteworthy. This is another highlight of this technique. Special built-in sensors will not allow your clothes to dry out – the machine determines the degree of products' dryness level automatically and protects them from accidental overdrying. The Cool Down Cycle allows clothes to cool down (blowing with cool air flows): as a result, items are further smoothed out and the fabric fibers are straightened better.
And, surely, the Amana – 6.5 Cu. Ft. 11-cycle gas dryer – white case is an appliance with an attractive appearance. Its design is concise and stylish at the same time. Its compact case fits perfectly even in a small space. The reversible type door is an additional nice bonus! So, one may choose the preferred dominant door side (right or left). This feature makes the dryer even more convenient to use – it can be adapted to the individual needs of each consumer.
Amana 6.5 Cu. Ft. Gas Dryer - Easy installation and pleasant usage
This Amana dryer gas item is easy to install and operate as well. Nevertheless, do not forget about the competent and correct setting procedure. It is advisable to invite specialists to solve this problem. The Amana gas dryer NGD4655EWmust be connected to the outside ventilation with the help of a special dryer hose (included in the package).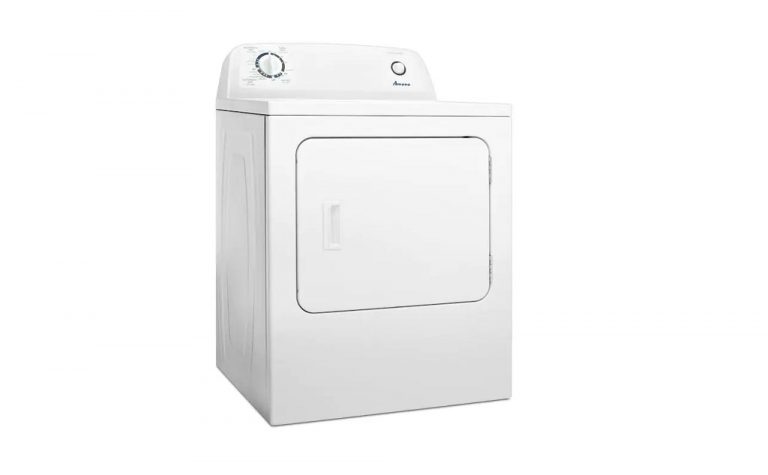 An important advice's advantage is the fact that it is a basic dryer with a diverse, but still minimal range of functions (especially if you compare this technique with similar competitors' products). The Amana 6.5 Cu. Ft. gas dryer has a set of the most important and useful options, thanks to which taking care of any clothes and textile household items will be easier, more productive and even more pleasant.
Guide to Buying the Amana Gas Dryer NGD4655EW
Are the Amana gas dryers any good?
This type of drying equipment is a useful and irreplaceable solution in any household. It is suitable for those who do not like to waste time on ordinary clothes drying. The Amana gas model purchase will please any housewife because now your goods are reliably protected from overdrying (which threatens with color, shape, and size loss). Dryers from Amana, including the presented model, is a reasonable investment. It will meet your expectations and become an excellent assistant.
Which is better gas or electric dryer?
Many buyers have some doubts about the gas or electric dryer choosing. Why should you buy the presented model, what are its advantages in comparison with the electric analog? First of all, this product is financially profitable: it is well known that gas costs cheaper than electricity, and therefore your monthly bills will become significantly less. Other advantages of gas dryers are quieter and faster operation. Multiple product tests and real user Amana gas dryer reviews prove that gas dryers cope with the assigned task many times faster than electric ones.
Copyright 2022 © Washing Machins · All Rights Reserved ·
WashingMachins.com is a participant in the Amazon Services LLC Associates Program, an affiliate advertising program designed to provide a means for sites to earn advertising fees by advertising and linking to Amazon.com.